Process - Screen Cage/Jacket. 
The 'V' Shape profiled wire is wrapped around an internal allay of longitudinal rods. We utilize an electronically controlled welding system to fuse the profiled 'wrap' to the 'support rods', While maintaining slot opening tolerances
Dimensional Ranges and Lengths Available.
Ranges from 1 in to 4 in outer diameter, and lengths from 1 meter to 5.85 meters (standard 20 foot contrainer length).
Perforated
"In-House" Perforation machinery can perforate all casings, stainless or carbon steel to the exact hole size, Quantity and configuration, to give the exact open area required.
Threaded
Buttress or STC Threaded fittings can be fully Manufactured and tested "In-House" with our Ring and Plug testing units.
Other Threaded fittings can be manufactured, according to customer requirements.
Where API certification is required, we can Purchase threaded fittings from certified manufacturers, and certificates can be Supplied.
Quality Control.
Quality Control is our highest priority, and in order to ensure that we deliver only the highest quality product, operate efficently, and maintain a system of continuous improvement, BSP has a QA System second to none.
We adhere to the standards as set out by ISO 17824:2009 . This standard provides the requirements cover design, design validation, manufacturing, storage and transport.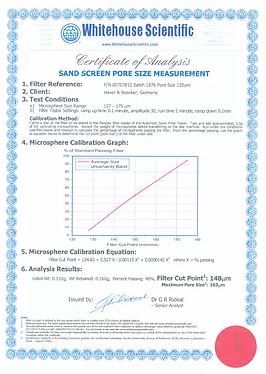 &nbsp&nbsp