Welcome to Banpong Screen Pipe Co., Ltd. 
Here at Banpong Screen Pipe Co., Ltd. It is our intention to manufacture and supply only the best Filtration Screen product in the industry. We are dedicated to supplying you, our valued customers, with fast and efficient answers to your filtration screen needs.
Holding the latest ISO 9001: 2015 Certification, We can assured you high quality products, with swift before and after sales service. BSP has established markets throughout the world, and our screens are currently performing in the toughest of conditions.
Quality Policy and Industry Standards Observed.
We are commited to total customer satisfaction by identifying their spectific requirements, translating them into quality product, and providing reliable after sales service
- ISO 9001:2015  Quality Control System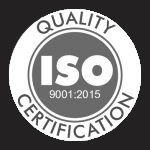 - ISO 17824:2009  Petroleum and Natural Gas - Downhole Equipment - Screens.
- DIN 4935  Slot Opening Tolerances.
- ASME/API  International Welding Standards.
- OHSAS  18001:2007  Health Safety and Environment.
Health Safety and Environment.
BSP recognizes the importance of Health Safety and Environment within our company, and expects all employes at all levels and positions, including outside contractors working within the factory, to do so safely, free from disease, and work related dangers.